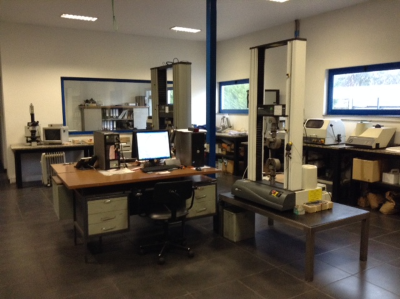 Ibermetais - Indústria de Trefilagem, S.A., certified according to ISO 9001:2015 has at its disposal one of the most complete internal networks of dedicated laboratories to each product segment.
Implemented the procedures that lead to certification, enforces us to preserve this level of quality, always looking for continuous improvement. We meet the purpose and reason for this plant, which is the satisfaction of the surrounding operators: Customers, Suppliers, Workers, etc. To comply with the requirements there is an adequate monitoring, which provides the necessary revisions to the quality system, in order to consecrating the interests of all stakeholders.
Ibermetais, S.A. is extremely demanding on quality control. Schematically, this control focuses mainly on:
Raw material control: All the raw material is subject to control at reception, ensuring compliance with the specifications. Apart of requiring quality certificates, this control allows to detect any deviation or proven inadequacy. When this happens there is an immediate suspension of its use and return to the supplier;
Metallic steel fibers: We use a strict control over the scaled shape of the fiber and resistance of the wires used in their manufacture;
Annealing: During the annealing process, based on specific thermal cycles, highly controlled at all stages, we assign ductility and mechanical properties of strength to the wire, with high reliability index;
Wire drawing: With the wire drawing process, by single or successive reduction of the cross section of the wire rod (raw material), we obtain wires of different diameters with tolerances, mechanical properties and specific surface finishes that meet the customer requirements.
This whole process demands an absolute control of the lubricants used, good condition and geometry of the dies, detection of surface irregularities, elimination of welds, winding and packaging.
Ibermetais Technical team is formed by highly qualified and skilled technicians that ensure the control of all production lines and the correct warehousing of the materials, guarantying complete traceability of all products.
The quality and management policies are major factors, secured by a dedicated and qualified department.